Fully Automated
Completely designed with fully automated features. * Easy Admin panel * Secured Member's Area * Multiple Currencies Supported * Automated Control user accounts * Instant Deposit Payment gateways * Operate with any or Own Currency.
See full features
Multiple Job Platforms
A Multiple Jobs platform for Employers & Freelancers, * International Jobs * USA Only Jobs * Selected countries Jobs * Hired group Job * Pay per click (PTC) Job * Fiverr type Offers/Selling
See full features
Integrated Blog
MiniJobScript have Built-in Blog No need to Install Extra Blog * Multiple blog Moderators * Blog categories * Social share buttons * SEO-friendly blog pages * Comments and banned Users * Modern and fresh design
See full features
$99 Promotion Price is available now ( FOR A LIMITED TIME)
More Promotion Offer: Free Brand remove "Powered by MiniJobScript" ( No extra cost)
( latet version 3 released)
Get Your Website Ready & Live within few hours [ Download ]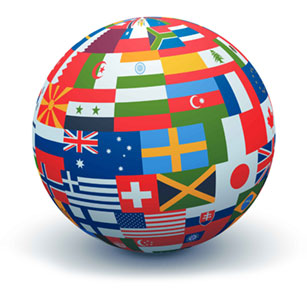 Micro Job, Fiverr & PTC modes All in One PHP Script (2023) With FREE Installation
One License per domain (never expire) with Free Support + Installation & free Updates. No Monthly or Yearly Subscription No license Expiry.

Checkout Live Demo of MiniJobScript v3
Log In:
Click here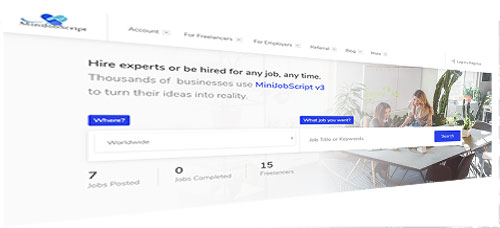 Log In:
Click here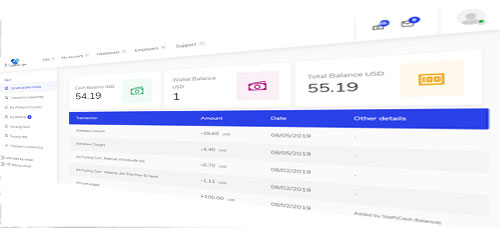 What is MiniJob Script and how it works?
MiniJob v3 is all-in-one PHP Script which have features of Micro Job, Sell/Offers & PTC sites
Which let you start a job website like fiver, microworkers, Freelancer, PTC etc
It means you do not need to buy separate scripts if you have all in one MiniJobScript v3
With MiniJob script you an create a Real Multi jobs website at One platform
You can operate user balances in any currency or your own system like points/coins etc..
Just setup the site and admin fees, Let the script works for you 24/7
Easily controlled/secured admin panel & fully automated for
How start a job business and Earn Everyday?
Employers Start a job campaigns when they have a task to be done
Employers deposit the payment via instant deposit methods on site
Freelancers complete the task and get paid from employer
Freelancers & Employers both can Sell / Offer their services or products
Admin get profit via all jobs, offers, and completed tasks from employers and freelancers
Whole process from Campaign to Payments auto control/ Manage by MiniJobScript.
For More details. Please Check out Features or Available Live demo
Customization / Modifications:
If you required any modification like in the theme or any extra feature required?
Just Do Not Worry
We have best programmers available who
provide Extended Hired services
which is safe with us.
It May cost some Extra but guaranteed Very Low cost then anywhere. Just
Contact us
now for any question.
Our Support Team! 24/7
We are in business over 15 years of maintaing of MiniJobScript up-to-date. When you need any technical help you can always count on our friendly support
List of Some hot Jobs sites Powered By Mini Job Script!
Tested on All Browsers

Do you want to earn money, Just by promoting MiniJobScript?
Join our Affiliate Program now