Fully Automated
* Experience a fully automated and * expertly designed micro job platform * Features an easy-to-use admin panel * Provides a secured member's area * Supports multiple currencies * Automates control of user accounts * Instant deposit payment gateways * Allows you to operate with any currency * including your own currency.
See full features
Multiple Job Platforms
* MultipleCampaigns features Included, * Including international jobs, * Jobs exclusively in the USA, * Jobs in selected countries, * Group Campaigns for best workers, * Pay-per-click (PTC) jobs, * Spam protection * Advanced search functionality * Featured Jobs posts * And Fiverr-like offers for selling services.
See full features
Integrated Blog
* Versatile builtin Blogging , * Seamless blog features, * users to track and analyze, * Advanced search functionality, * Social share buttons, * Featured blog posts, * Spam protection * SEO friendly blog pages * Easy navigation * And Easy automates Social Monetization ads options.
See full features
$99 Promotion Price is available now ( FOR A LIMITED TIME)
More Promotion Offer: Free Brand remove "Powered by MiniJobScript" ( No extra cost)
( latet version 3 released)
Get Your Website Ready & Live within few hours [ Download ]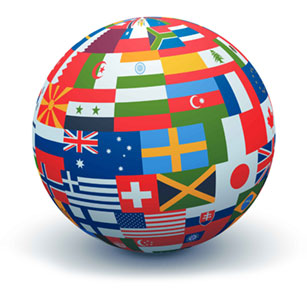 Micro Job, Fiverr & PTC modes All in One PHP Script (2023) With FREE Installation
One license per domain, which never expires, includes free support and free installation, as well as free updates. There are no monthly or yearly subscriptions, and No license Expiry.

Check out Live Demo of MiniJobScript v3
Log In:
Click here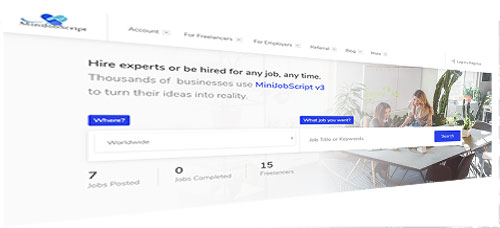 Log In:
Click here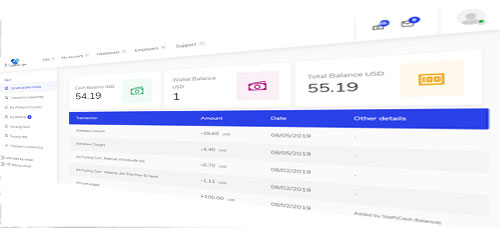 What is MiniJob Script v3 and how does it work?
MiniJob v3 is a comprehensive PHP script that combines the functionalities of micro job, sales/offers, and PTC (Paid-to-Click).
With MiniJob v3, you can effortlessly launch your own job website similar to popular platforms like Fiverr, Microworkers, and Freelancer.
This all-in-one solution empowers you to create a thriving online marketplace where users can buy and sell services, post offers, and engage in paid advertising.
Experience the power of MiniJob v3 and unlock endless possibilities for your online business

How to start a profitable job business and generate income daily?
With MiniJobScript, employers can easily start job campaigns when they have tasks that need to be completed.
They can conveniently deposit payments using instant deposit methods available on the site.
Freelancers,on the other hand, can complete the assigned tasks and receive payment from the employers.
Both freelancers and employers have the option to sell or offer their services or products on the platform.
The admin of the site benefits from all the jobs, offers, and completed tasks by earning profits.
The entire process, from campaign creation to payments, is automatically controlled and managed by MiniJobScript.
Customization / Modifications:
If you require any modifications, such as changes to the theme or the addition of extra features, do not worry. We have the best programmers available who provide Extended Hired services, which is safe with us. It may cost some extra, but the guaranteed cost is very low compared to anywhere else.
Contact us now
for any further questions. .
Our Support Team! 24/7
With a commendable track record spanning over 15 years, we take pride in our expertise in maintaining MiniJobScript and ensuring it remains current. Count on our amicable support team to provide reliable technical assistance whenever you need it
Here is a list of some popular job sites powered by the Mini Job Script:
Tested on All Browsers

Do you want to earn money, Just by promoting MiniJobScript?
Join our Affiliate Program now